If you are looking for award-winning professional Malibu movers, then look no further! Movegreen is the premier eco-friendly green moving company in Southern California that specializes in the Malibu area. We offer local moving, as well as interstate and international moving services.
We also make a positive impact on the local community and environment by planting 10 trees for every move and fueling our vehicles with B5 Biodiesel as well as using hybrid vehicles.
All of our local moves are charged by the hour and we don't start the clock until we arrive at your location. Make your move in Malibu with a moving company that knows the local area and is committed to giving back to the community.
Our Malibu moving company provides a stress-free moving service at affordable prices. Our local movers are devoted to provide high class relocation assistance to house and industrial owners in Malibu and in surrounding cities.
Why Move to Malibu?
Malibu is a beachfront city in western Los Angeles County, California. Malibu is home to many Hollywood celebrities and movie stars. The famous and wonderful city of Malibu, guarded by the Santa Monic mountains on the north and Topanga on the east, is stretching for more than 32 miles along the Pacific Ocean. It is situated along the Malibu road, Malibu Lagoon State Beach and the Malibu Bluffs Park.
From sunny weather and sandy beaches to fine dining and shopping, there are really infinite reasons to move to Malibu, California. If you are moving for a new job or just to relax on the beach with a cocktail in hand, you'll want to check out what our Movegreen Malibu movers have to offer.
The city of Malibu is can be identified with its warm and inviting beaches. The name is taken from a Native American phrase that means "the surf sounds loudly." It's famous beaches called Surfrider, Zuma and Leo Carillo are perfect for many surf lovers. Malibu has an abundance of hiking trails, historical and cultural landmarks such as the Adamson House, historic Malibu Pier, Malibu Lagoon Museum and the calming Serra Retreat. There are also many annual events in the city including Malibu International Film Festival, The Malibu Chili Cookoff, Malibu Chamber Golf Tournament, Malibu Arts Festival, and the Malibu International Marathon.
Local Movers Serving the Malibu Area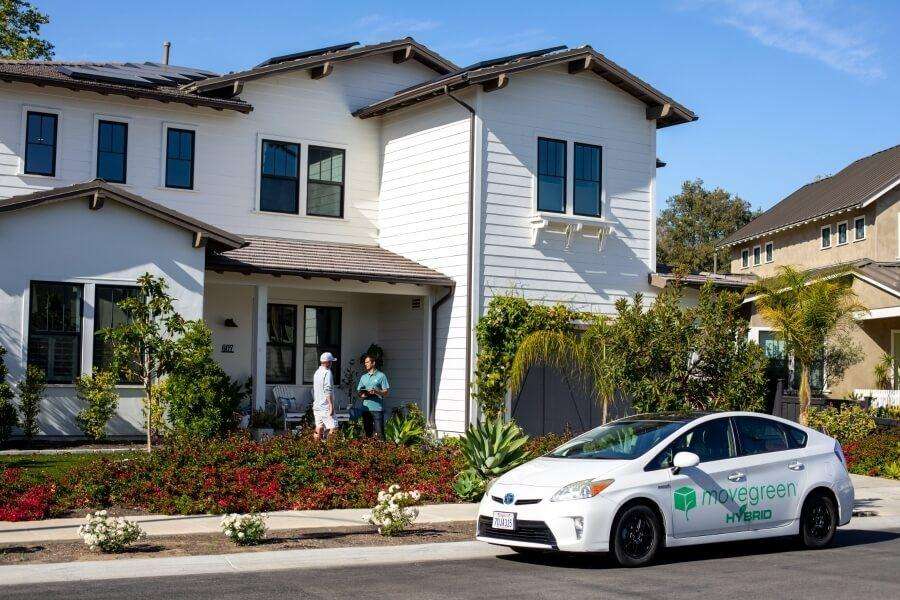 Our trustworthy moving company will take care of all your moving needs. Hire movers that have your best interest in mind. Besides Malibu, our moving company also offers services in nearby cities such as Agoura Hills (8.2 miles away) and Westlake Village (8.5 miles away).
Below are some of the reasons why you should choose Movegreen for your next move.
Why Choose Us?
Best Malibu Moving Company
We are the best local movers in Malibu, California with over a decade of experience moving in the area. You can be certain that we will provide an efficient service. Many people have told us that we did a an amazing job and this is something that makes us very proud. These good reviews from our customers are why we keep providing an excellent service. We strive to be the movers in the Malibu area.
Our trustworthy moving company uses their own truck and moving equipment. Besides local residential moves we provide also long distance moves. Relocations for office, industrial and commercial clients are also possible.
Excellent Customer Service
Movegreen is the go-to source for moving services in the Greater Los Angeles area that you can trust. Since 2007, we have made hundreds of successful local moves. You can trust our professional movers to take care of the whole moving process.
Our professional team is knowledgeable, always on time and very careful with all our belongings. We are even able to move large and expensive furniture such as a pool table or a grand piano. If you like, you can also use our additional storage services that we also provide.
Choose Movegreen Malibu Today
Choose Movegreen if you are looking for professional eco-friendly moving services in Malibu. Contact Movegreen today for a free quote!