Welcome to Movegreen Storage of Los Angeles
For any storage need you may have, Movegreen has the solution. From clearing space from your garage for a car, to cleaning out that extra room to host guests, to needing a short term space for your items during a transition period – we are happy to help and support! At Movegreen, we understand that moving is not one size fits all and we provide a variety of options to meet all of your storage needs.
What is the best option for you?
Portable Storage Solution
In our full service moving option, the friendly Movegreen staff will arrive at your door with all the necessary items needed to make your move a safe one. They will provide Portable Storage units with furniture blankets as well as shrink wrap (no additional cost). To limit the handling of your items, our professional movers will load them directly into the Storage units for safety. Once everything is safe and secure, your items will be moved to our storage facility until you are ready for them. Call us today to find out more!
Self Storage Solution
With our self-storage option, you are able to bring your items to one of our three convenient locations to store everything safely into our Containers. We provide you with FREE use of shrink wrap and furniture blankets for assurance of safety and protection.
---
Movegreen Storage Containers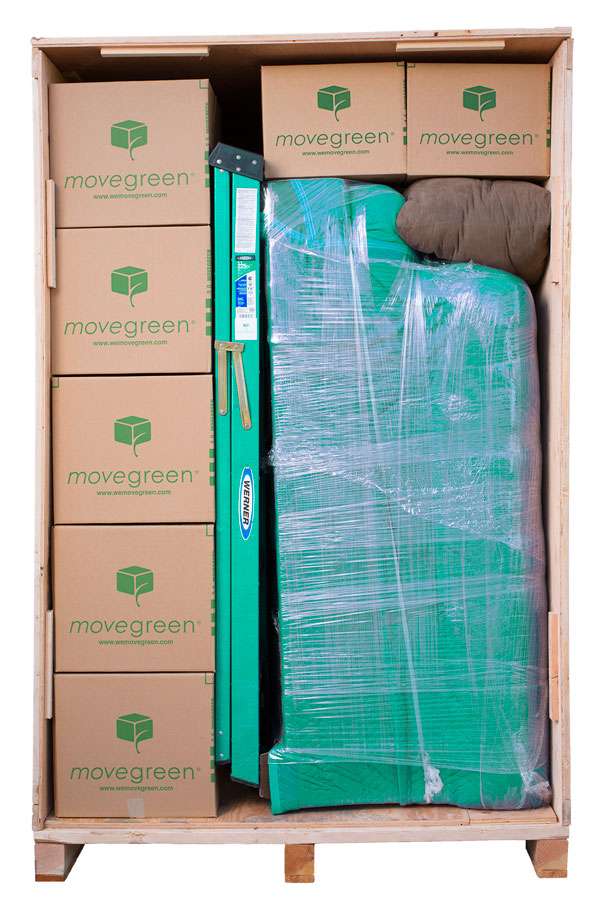 At 5′ wide, 7′ long, and 7′ tall, our containers are perfect for organizing your move by room. Movegreen storage containers typically hold 1 to 1.5 rooms of furniture, or 40 – 50 medium moving boxes, and you can adjust the quantity you need to accommodate how much you are packing. Our containers are crafted with construction grade plywood that is rigid and strong, but also breathable to reduce the risk of mold and mildew.
---
5 Reasons to Choose Movegreen Storage:
Affordable:
Only pay for the space you need. With rates as low as $75 per container per month, we are one of the most affordable storage solutions around. And if you load your containers at our storage facility, you save on delivery fees, making storing with Movegreen even more affordable.
Convenient:
Conveniently located near freeways. Our storage location is just off the 101 which keeps your travel time to a minimum.
Hands Off:
Minimal handling of your items as they are loaded directly into your units* Optional
Professional Moving Tools:
We understand how difficult it is to move large, heavy, and sometimes irregularly shaped items. When you store with Movegreen, You have free use of professional grade pads and stretch wraps to keep your items protected.
Secure:
Safe and secure facilities with professional video surveillance and alarm systems. Once you have loaded your containers, you lock them and no one has access to your belongings until you unlock them again. We store your locked containers indoors at our 24/7 secure warehouse.
---
What Storage Description Best Suits You?
Movegreen offers a self-storage option where you are able to bring your items to one of our two locations and load your items directly into our Containers. We provide FREE use of furniture blankets and shrink wrap so you can protect your items while in storage with us.
"Long-term Storage"
You need storage for 6 months or longer.
"Seasonal Storage"
You need storage for 3 months.
"Temporary Storage"
You only need storage space for a few weeks
"Residential Storage"
You have run out of room in the house and need some extra garage space!
"Business Storage"
You have a small office, but you are looking for a place to store business banners, posters, products, inventory, and more!
"College Student Storage"
You are going home for the summer and need a place to store items in between moves.
and More!
---
If you would like to learn more or get an estimate for your upcoming move, simply give us a call or fill out our online estimate request.